Improve Relative Pitch with Functional Ear Trainer
We have added a software review for Functional Ear Trainer, a mobile application available on Android and IOS. The software review section at Lead Vocals contains reviews of some of our most favourite software titles which we think are helpful for vocalists and instrumentalists.

Functional Ear Trainer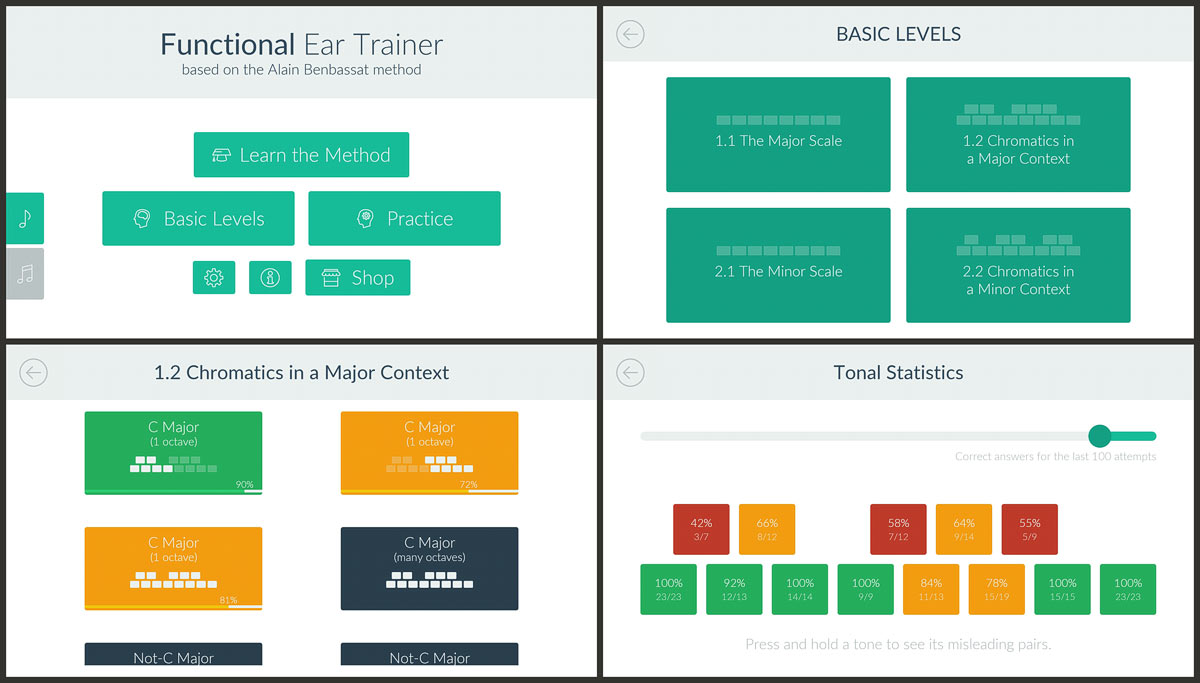 Functional Ear Trainer is a mobile adaptation of Alain Benbassat's method to distinguish between the notes within a scale in the context of a particular key. The tones of a scale within one octave are split in the middle, building a descending melody for the lower tones and an ascending melody for higher tones. Repeating the melody starting from the note in question during practice gives the context of the note's position and function within scale and key. While going through the exercises, the user will find out that switching the octave and/or the key of a scale will not affect the recognition process, because the function of the tone in question remains the same. Even the switch from major to minor scale will reveal great similarities.
The application offers the training of minor and major scales split in well thought steps. Scales can also be practised with its chromatics, which will result in an improvement of hearing with more precise resolution. The steps of the learning process include lower and higher notes, one and multiple octaves, multiple keys, and combinations thereof. Additionally the user can sharpen his or her memory for melodies by going through various melodic dictation exercises. It is also possible to craft own exercises, and the application offers a very useful hands and screen free mode which allows learning through headphones.
We at Lead Vocals think the software is extremely helpful for building a better musical ear. The learning method and the structured presentation of the exercises help in gaining a fundamental understanding of music, which will greatly improve the ability to master relative pitch and the improvement of melodic memory. The exercise steps are balanced that well that the experienced learning progress will translate to a higher motivation. The up to the note precise feedback provided by statistics reveals the exact weaknesses of ones hearing ability.
Functional Ear Trainer is ad free, and free of charge for exercising the recognition of tones and chromatics from the major and minor scale. It also allows testing a limited amount of melodic dictation exercises. The full functionality can be unlocked in steps, consisting of Melodic Dictations, Listener Mode, and Sound Plugins, or in full with a discount. Find more information and contact the developer Serhii Korchan at http://fet.kaizen9.com.
Download Links
· Functional Ear Trainer at GooglePlay
· Sound Plugins for Functional Ear Trainer at GooglePlay
· Functional Ear Trainer at iTunes

Mobile Software Reviewed